Presentation of the territory
The Bassin de Pompey: History through Nature
The Bassin de Pompey is a place of discovery. Historic heritage, the water, the forest, industry and housing become a cohesive and harmonious whole.
Walk in the footsteps of the pilgrims to Santiago de Compostela and on the many marked trails in the area.
Enjoy a waterside jaunt along the many kilometres of walking and cycling trails developed along former towing routes.
Taste the famous Liverdun madeleine along with a beer, or some traditional foie gras.
Stroll the narrow streets of the medieval town of Liverdun, the former stronghold of the bishop of Toul.
Recharge your batteries in one of the many natural sites of the Bassin de Pompey.
Admire the 1900s' heritage of the Domaine des Eaux Bleues and its grounds with rare plant varieties.
Explore the Batterie de l'Eperon and its Seré de Rivières defensive system which features the last remaining example of a Galopin retractable turret.
Visit the heritage sites of its surrounding towns and its characteristic Lorrain heritage, attesting to its rich past.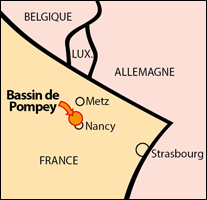 Geographical location

The Bassin de Pompey territory is located in the heart of Lorraine, south of the Lorraine Regional Nature Park and 15 minutes from Nancy.