MILLERY CAMPERVAN PARK

Situated on the banks of the Moselle, in the lovely setting of a charming village, the campervan park offers 7 places, enhanced with grassy areas allowing campervanners to use their picnic furniture and roll out their awnings.
Newly developed, the park has an emptying point for wastewater and chemical cassette toilets, as well as electrical points and a drinking water supply.
Campervanners can enjoy the picturesque setting of the village and its Renaissance heritage and remarkable wash-house. Keen cyclists will enjoy the direct proximity of the "La Voie Bleue" cycle path for a waterside ride.
Liverdun : the campsite of the Loops of the Moselle and the reception area for camping-car

The campsite of the Loops of the Moselle is situated in the heart of the zone of leisure of Liverdun, on the edges of the Moselle and near a zone of fishing. It has nearly 200 pitches. Motorhome owners and campers can enjoy all the comfort offered by the campsite: sanitary facilities, washing machines, electric hook-ups, water, drainage, leisure facilities (swimming pool, playground, beach volleyball...).
The campsite offers a restaurant service open to all.
Adjacent to the Boucles de la Moselle campsite, the area offers 4 to 5 parking spaces in a grassy area.
The Boucle de la Moselle® cycle route passes directly by the campsite and the parking area, facilitating access to the region's cycle routes.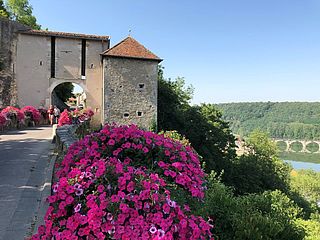 To see - to make in Liverdun and services in the vicinity :

Medieval city of Liverdun: tourist circuit
Zone of leisures: walk, fishing, bicycle, spaces of games, tables of picnic, initiation in the rowing in summer...
Pedestrian excursion
Local products : the madeleines of Liverdun, artisanal brewery, confectionery
Shops and restaurant, supermarket
Domain of Val Fleuri - Minigolf